EZVIZ Home Security Solutions
An All-in-one Solution to Protection with the A1 Alarm Starter Kit
The A1 Alarm Starter Kit has everything you need and is the perfect solution to protecting your home.
This internet alarm kit, with a wireless 868MHz Control Panel K2, detects and alerts you in real time if intruders are present, directly to your phone via the EZVIZ App. The lightweight remote control supports up to 32 wireless detectors, with real time emergency button, Wi-Fi Internet Cloud connection & a voice guide. The sensors T6 are a user friendly position detector that can be easily installed in a horizontal position of a door, window or drawer so that when an opening is detected an alarm is triggered. The wireless PIR Detector T1, has a high sensitivity low power consumption human movement detector – which can detect gentle human movement while avoiding false alarms caused by small pets. The T9 Wireless Indoor Siren is an audible and visual siren that when triggered blinks and resonate at 85dB tone. All of these are also available as add-ons.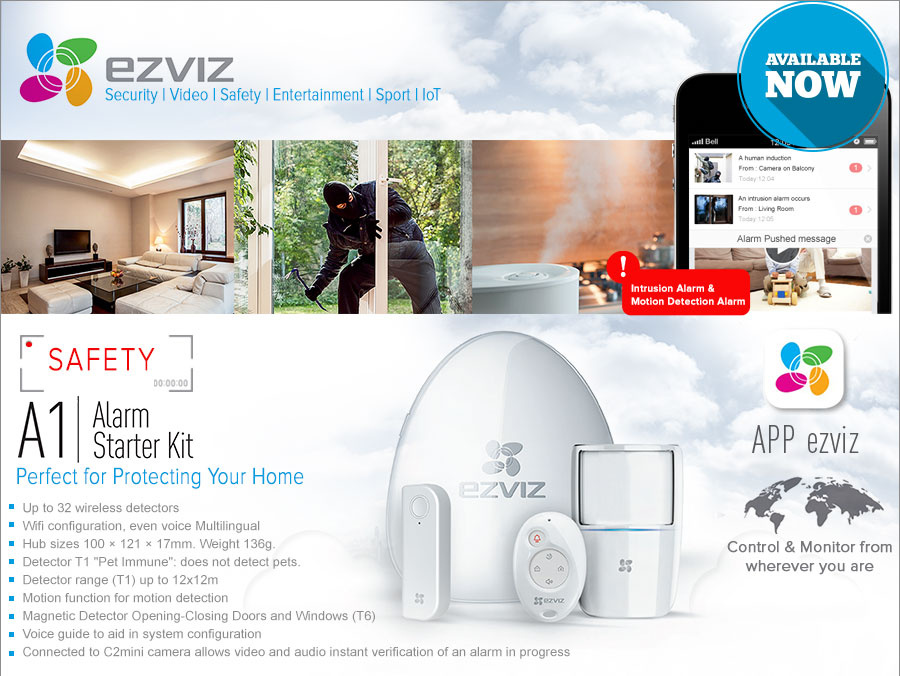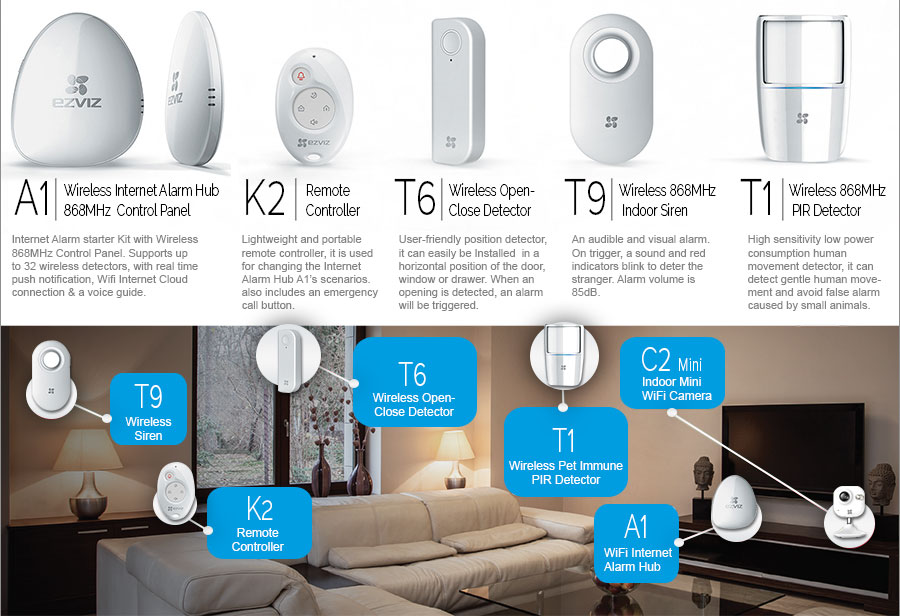 For the full kit see HERE or to build your own check HERE and explore the optional accessories.
C2 Mini and C2C Indoor cameras
For added value and extra security you can grab a C2 Indoor Mini Wi-Fi camera with a 130 degree wide angle range. It is also available in a bundle with a 16GB SD card. Although it is an independent product in and of itself, if connected to the A1 system, this camera enables instant audio and video verification of an alarm in process. It records with clear 720P HD video and has a greater day and night vision - 10M of infrared range. It can send motion detection alerts to your phone and it has a built in microphone with 8x zoom and audio recording capability! It has options for cloud storage (with a free trial) and local storage (up to 128GB micro SD card). Because of its small size, magnetic base and 2.4GHz range, placing and hiding it is easy-breezy.
C2 Mini security camera uses USB cable to connect to USB power outlet. C2 Mini can be powered from battery bank, PC, laptop or others devices that has USB power outlet. Can be useful in places where power cable can't reach or for temporary solution and testing.
We found very nice and comprehensive independent review of the C2 Mini camera "Simple, Yet Capable // EZVIZ Mini 720p Wireless Security Cam Review" which you may find useful.
The C2C model, although does not connect to the A1 system, has exactly the same specs as the C2 Mini model above, but with a few small differences. Firstly, it holds a microSD card of up to 128GB. Secondly, it has a slightly smaller viewing angle than the C2 Mini and has half the infrared range. This is the ideal camera to place in your nursery to watch over your newborn. It is also ideal for small apartments, bachelor flats and cottage homes.
A cute feature about these cameras that we here at Nivo just love is the built in mic with two way audio. It allows us to interact with our pets at home so there is no excuse to be missing your furry friends! Watch them and bark back if they are the mischievous type and even play with them when they (or you) are bored and you are away from home.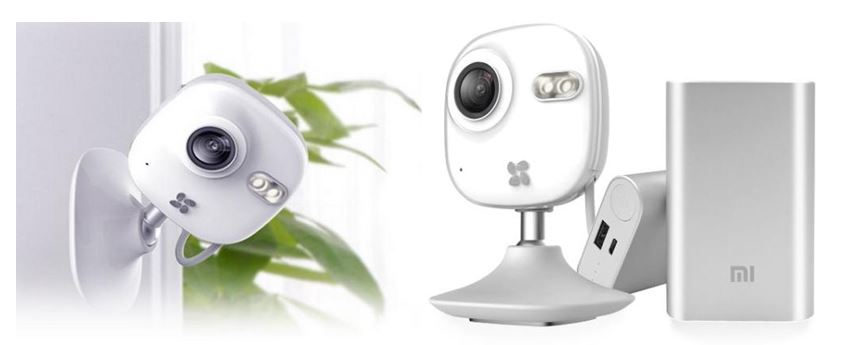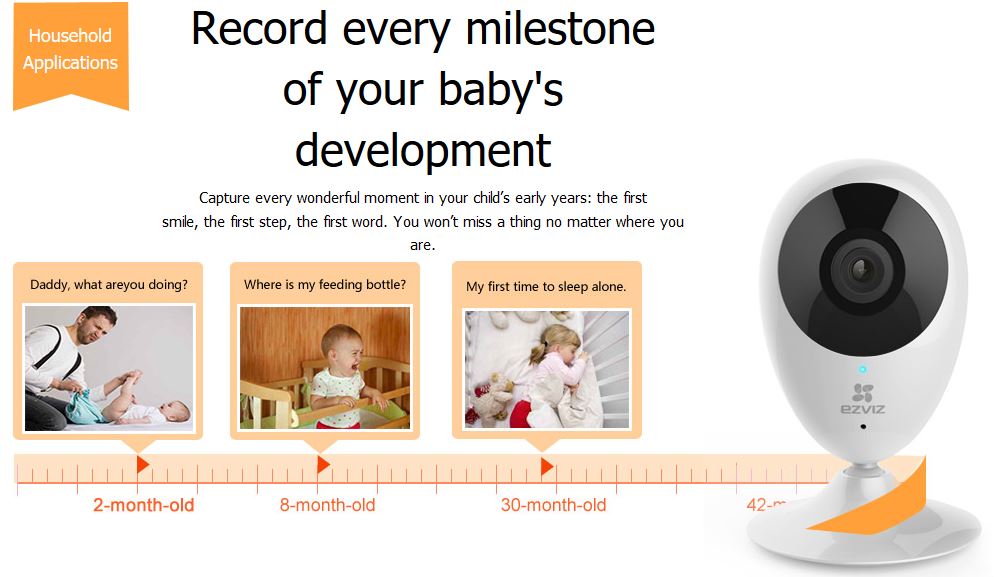 EZVIZ DYI Surveillance Kits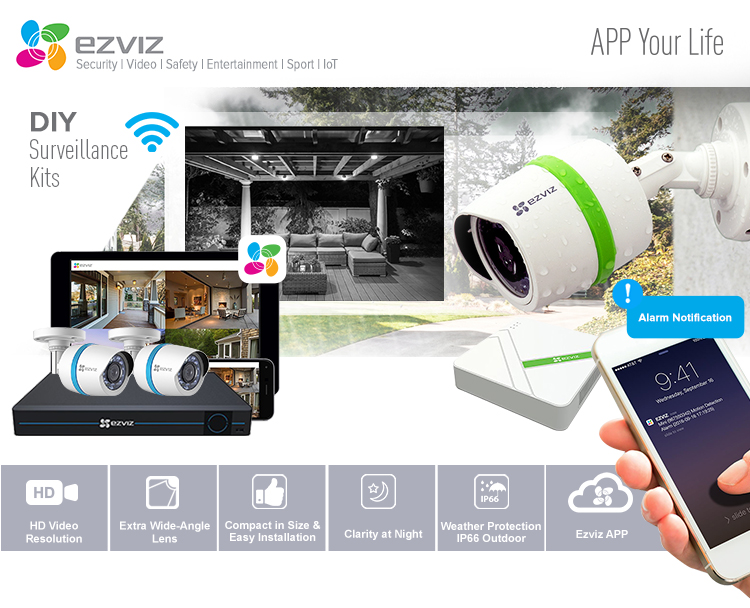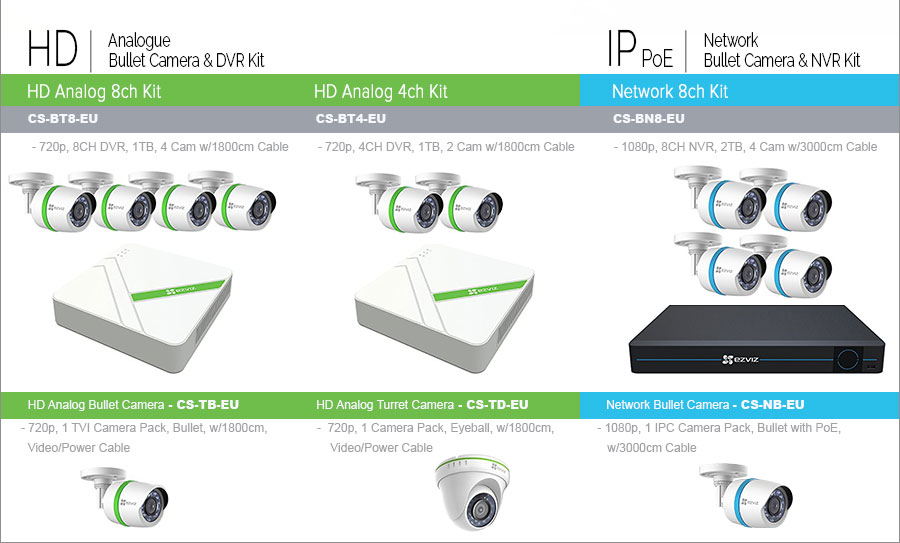 Choose between HD Analogue Bullet Camera & DVR Kit or IP PoE Network Bullet Camera & NVR Kit and never worry about your homes status every again.

The 8 and 4 Channel Analogue Kits can be expanded with more Analogue Bullet Cameras. The Kits have 720p resolution and 1TB built in hard drive. It is IP66 weatherproof and Smart IR Up to 65 feet. It can be linked to Free EZVIZ Cloud P2P. To find out more how EZVIZ Cloud P2P works you can watch this video "Introduction Video of Ezviz Cloud HIKVISION P2P".

The 8 channel NVR IP PoE Network Kit has hi-res 1080P recording, 2TB Hard drive, IP66 weatherproof, up to 100 Feet IR Range. It can be expanded with the C3U Outdoor PoE Bullet IP Camera.

With EZVIZ outdoor internet cameras you can control the garden or the terrace of the house with your smartphone. Just download the app Ezviz, frame the code with the camera and you're done! These cameras are small and discrete with easy installation. Wherever you are you will be in control of your home and check for any intrusion attempts, from the outside, both day and night. All in real time with the App Ezviz.

The C3C models are 1MP, their recording resolution is 1280 x 720 @ 15fps. They support dual beam stream and can take up to an 128GB SD card. They have 30 meter infrared range and are dustproof and waterproof. Both the Wi-Fi and PoE versions are available in 2.8mm & 4mm lenses.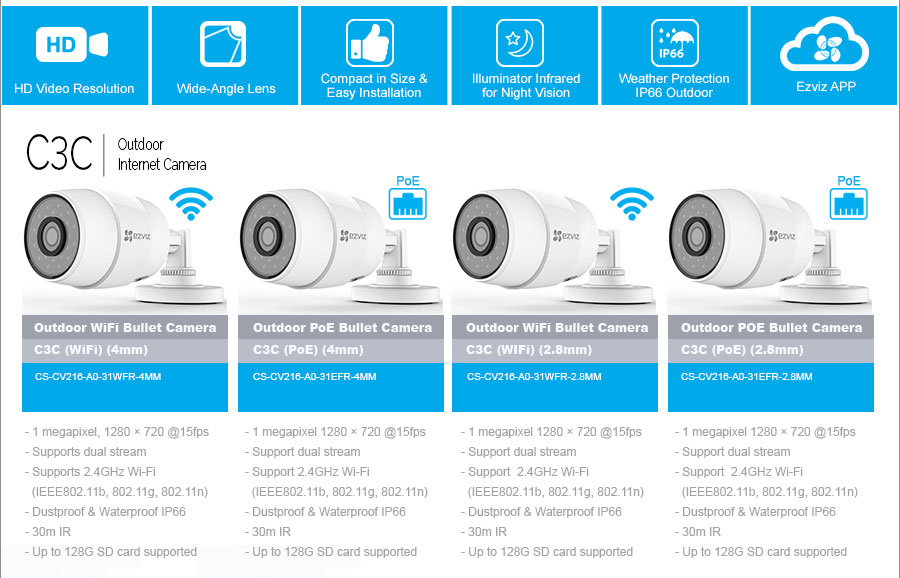 The C3S & C4S models have the advantages of the aforementioned models but are equipped with a 2MP sensor and their recording resolution is 1920 x 1080 @ 25fps. They support BLC (Back Light Compensation) and also support a video alarm service. They also have an automatic electronic shutter for the most optimal signal output level. They are available in 4mm lenses, the C3S are bullet-shaped and come with Wi-Fi or PoE preference. The C4S are a dome form factor and are also available with either Wi-Fi or PoE.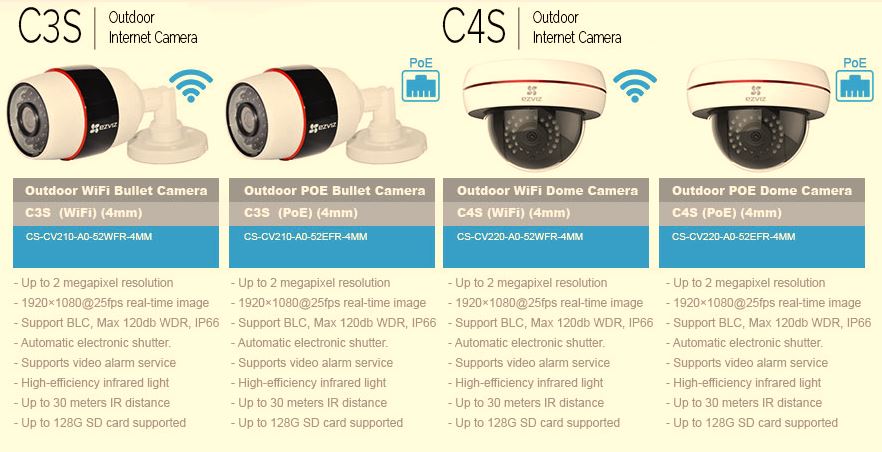 Internet Video Recorder

The X3 is an easy-to-use and cost-effective Internet Video Recorder. It realizes the video recording from the EZVIZ cloud cameras and has remote live view via the Internet. Mass storage HDD is supported, and you can get one that's pre-bundled with a 500GB or 1TB Drive. The unique disk pre-allocation technology is able to extend the HDD lifetime, effectively decrease the disk fragments, increase the HDD utili-zation, and ensure video security. It has a flexible and configurable recording schedule. 24/7-Hour Continuous Cycle Recording is no problem. EZVIZ Cloud Service offers remote playback via mobile devices and PC. It's also easy to automatically add up to 8 EZVIZ cameras which are in the same LAN and linked to the same account.